Available in Silver, Rose and Black.
The GOOD                                        
Engineered w/ world-class noise cancellation
Great sound quality    
Very comfortable and light weight        
Solid clarity for phone calls
Pairs with multiple devices at once
The Bad                                        
Price
no auto play/pause
Yes, the price is steep but honestly, the QuietComfort 35 II Wireless Noise-Cancelling headphones is the go-to for most people. Bose's noise-cancelling feature can't be beaten for cancelling that unwanted and bogus sound. Concentration and focus goes to the next level. It's all about that deep feel for your music, work or whatever moment your in. Excellent headphone for the travelers, the frequent flyers and the commuters.
Design
The Bose QuietComfort 35 Wireless Noise Cancelling Headphones II may appear simple but the impact resistant material is built to last. The model is so durable you really don't have to worry about accidentally dropping or shoving the headphone in your bag. The design adds to comfort which makes it lighter and easy to wear for hours, the chore of keeping them on is forever gone. The headphones come with a hard case for traveling, much nicer than the pouches others opt to include.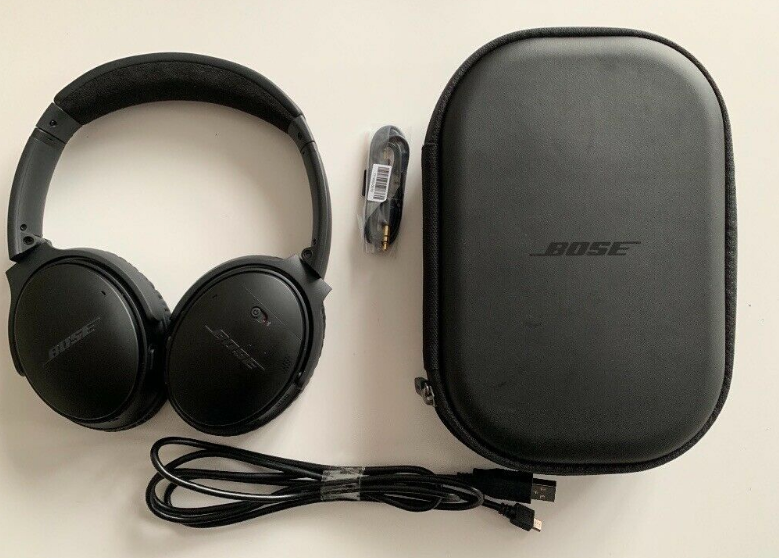 Features
When you power on the headphone for the first time you'll need to download the Bose Connect app for your phone. It is a requirement for the apps many features in order to personalize your settings. This includes the Google assistant, future updates and much more.
Three levels of noise-canceling are available with this model. Adjust your level of noise cancelling between three settings using the Action button or the Bose Connect app.
Pairing with multiple devices is made easier. These headphones are able to pair with almost any Bluetooth transmitting device, including your smart watch and smartphone.
Allows you to view remaining battery percentage, control your music, and toggle voice prompts on and off. 
Performance
For the frequent flyer the headphones are a must for cancelling airplane noise.
Great padding and light weight makes makes it extremely comfortable to wear for hours at a time.
Charge time is 20 hours of wireless and about 40 hours with the headphone cable in play. The battery is "not removable" so you may want to bring along the battery pack and a micro USB.
Conclusion
The Bose QuietComfort 35 Wireless Noise Canceling Headphones II is the outstanding model of choice for noise cancelling and excellent sound quality.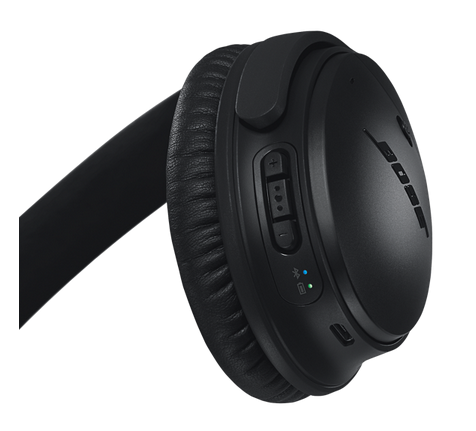 So yes, its worth checking out for $299 originally $349 | Detail's at worldwidestereo.com: Bose QuietComfort 35 Wireless Noise-Cancelling Headphones II (Black)
REVIEWS:
The Bose QC 35II are excellent all around. Sound quality wise, they are good as can be. Bluetooth is not the same as being connected by wire, just like sound from MP3 is not the same as Vinyl. Nice even bass, mids, and highs. The bass is not overpowering like BEATS. Loudness is great as well. Protect your hearing! Build quality for the Bose QC 35Ii is typical for a Bose product…excellent!! Connectivity works great, pairing to bluetooth is seamless. Compared to Sony, the Bose headphones are much more comfortable for longer wearing. Both companies have similar offerings and you can give or take some thing from each.
Sound quality is exceptional, and the noise cancelling is very good. The feature I like the most, for day to day operations, is the fact that I can connect my phone and my PC at the same time. I listen to music (from my PC) while working at home and music stops when a phone call arrives. Perfect, no need to put the phone screen in front of me to keep an eye on it. Battery is quite good too.
I've had these over a year. I use them when I need peace and quiet and when I go on family vacations when I'm stuck in a room full of snoring bears. I can't hear anything and can finally get some rest. They are very comfortable and the sound is great. Thank you.
Excerpt Bose