What's New
Klipsch x McLaren – Two brands. One pursuit of excellence.
The Klipsch T5 II True Wireless Sport McLaren Edition Earbuds are the result of a truly unique collaboration that just makes so much sense when you get to know the origin stories and the approach to design and engineering that both brands live by. Both brands were, to put it simply, born in their founder's garages and both maintain the endless pursuit to performance perfection. Like Klipsch's advanced acoustic research and development, the design and engineering that goes into McLaren's Formula F1 racing cars demand microscopic attention to detail. McLaren's successful racing heritage has been driven by innovation in materials and form that have led to applications outside of the racing world. To pack extreme performance into the sleekest and lightest chassis possible.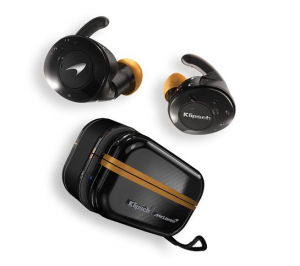 Klipsch T5 II True Wireless Sport Earbuds – McLaren Edition $249.00
Klipsch T5 II True Wireless Sport earphones
Part of the Klipsch McLaren Racing F1 Team Official Audio Partnership
Legendary, detailed, dynamic Klipsch sound
Dust/waterproof case with moisture removal
Patented, ultra-comfortable ear tips
Signal-boosting antenna
Fast USB-C charging with wireless charging pad included
Home Theater Systems & Speaker Packages
Looking for a serious setup and zero hassle, Check out the offers of all-inclusive pro-level home theater sound system packages with everything you need: speakers, sub woofer, receiver, DVD/Blu-ray player…
Turntables
Carefully vetted line of turntables and turntable accessories is world-class, whether you measure by price, performance, or engineering.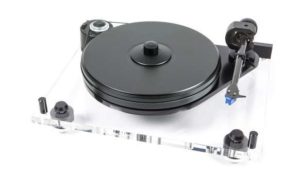 Pro-Ject 6Perspex DC Turntable SuperPack With Sumiko Blue Point Special EVO III
$1,999.00
Speed: 33, 45 (electronic speed change)
Drive principle: belt drive
Platter: MDF/vinyl Sandwich (300mm diameter)
Mains bearing: inverted stainless steel with ceramic ball/plate
Wow & flutter: 33: +/- 0.10% 45: +/- 0.10%
Speed drift: 33: +/- 0.10% 45: +/- 0.06%
Signal to noise: – 73dB
Tonearm: 9" cc EVO (Carbon)
Effective arm length: 230 mm
Effective arm mass: 8.0 g
Overhang: 18mm
Tracking force: 10 – 35mN
Supplied counterweights: 5 – 7.5gr / 7 – 10gr / 9 – 11gr / 10 – 14gr
External power supply: 15 volts DC / 800mA
Power connection: 110/120 or 230/240 Volt – 50 or 60 Hz
Power consumption: 6 watts max / < 0,3 watts standby
Dimensions: 460 x 183 x 365mm (WxHxD)
Weight: 11.0 kg net
Televisions
Today's latest and greatest TVs, including LEDs, state-of-the-art OLEDs, Smart TVs with internet connection and apps, and the best-of-the-best 4K HD TVs. Whether it's for the big game, movie night, binging your favorite shows World Wide Stereo's got the right television for you at the right price.