Dual
Cameras which record in dual-channel mode, or from two sources of video.
Solo
Cameras which record in single-channel mode, or from one source of video.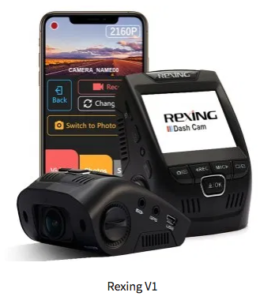 $99.99
4K Video Resolution
With 4K resolution V1 Dash camera can shoot exquisite and clear images with rich color and high-contrast performance. The dashcam captures license plate clearly even while driving fast or in low light condition.
170 DEGREE ULTRA WIDE ANGLE LENS & WIDE DYNAMIC RANGE
With its 170 degree ultra wide angle lens, you can mount the camera nearly anywhere and still capture the entirety of the road. The camera automatically adapts by fine-tuning the exposure of the camera to create balanced images and footage.
SUPERCAPACITOR & PARKING MONITOR
The dash cam uses a supercapacitor which can withstand extreme temperatures from -20 to 176°F, that prevents the risk of overheating, extends the life span and reliability of the camera. With the parking monitor feature, the dash camera will automatically turn on and record when the car camera detects vibration OR dash cam will capture frames for a time lapse video for 24/7. Please connect the smart hardwire kit to activate the parking mode.
WIFI CONNECT
View, save, and share dash cam recordings wirelessly on your mobile device with the use of an app interface.
LOOP RECORDING AND G-SENSOR
Video can be recorded in 1 or 3 minute intervals. When the storage limit is reached on the memory card, new recordings will automatically overwrite the oldest recordings. Supports high-endurance micro SD memory cards up to 256GB in memory size. When the built-in gravity sensor detects a collision, the current video is locked, ensuring important footage is kept protected. Locked videos will be kept safe from being overwritten.
Optional GPS
Playback your video using the comprehensive GPS Logger software interface to see real-time information about your speed, location, and more. Location is displayed within the application using Google Maps. (Need purchase separately. ASIN: B01AKH377A)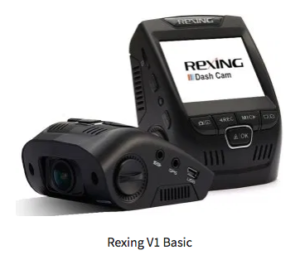 $49.99
DISCREET DESIGN
Signature low-profile design allows the V1 Basic to be a well-hidden witness to the road ahead.
FULL HD RECORDING
Sony Exmor IMX323 image sensor captures beautiful Full HD 1080p video @ 30fps. WIDE DYNAMIC RANGE allows the camera to perform optimally in any lighting situation by adjusting the exposure to create balanced images and footage.
170° SUPER WIDE ANGLE
This car driving recorder employs 170°super wide angle lens. Ultra-wide field of view reduces the blind spots and captures more details, to reserve the real scene.
ACCIDENT AUTO-DETECTION (G-SENSOR)
With built-in G-sensor, Rexing dashboard camera can automatically detect a sudden shake/collision and lock the footage to prevent the video from being overwritten even in loop recording. Accident scene can be truly restored.
SUPER NIGHT VISION
The combination of F1.8 large aperture, WDR, HDR ensures the clarity of images at night. Eliminates the need for an auxiliary light source even in low-light environments, making it easy to obtain sharp, color-accurate images.
Trail Cams
Ultra-responsive wildlife photography solutions for those who spend their time enjoying the great outdoors.
$99.99
HD PHOTO AND VIDEO
Capture up to 16 megapixel photos and 1080p video + audio. Time lapse, target recording, and photo series modes allow you to customize your camera to be the perfect surveillance tool for home, work, or the trail.
ULTRA FAST TRIGGER & LED FLASH
Capture subjects as quickly as 0.2 seconds after sensing motion within the 120° angle of detection of the front and side PIR sensors. Infrared Night Vision LED flash illuminates subjects as far as 65 feet (20 meters) to produce a clear image in both day and night.
BUILT-IN DISPLAY
Review your captures instantly with the built-in 2.4" LCD screen, allowing you to navigate through your photos and videos.
LOW POWER CONSUMPTION
Up to 16 months of continued surveillance on 8x AA batteries.
SECURE DESIGN
Features an operating temperature range of -4°F to 140°F, as well as an IP66 waterproof design. The mounted camera can be password-protected and secured with a lock to prevent unwanted access.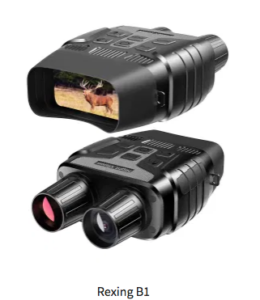 Rexing B1
$199.99
CLEAR FROM ANY DISTANCE
See subjects in the dark up to 300M (984ft) away using infrared (IR) lighting with 10x optical zoom and 4x digital zoom supported by a f/1.2 25mm objective lens. LARGE LCD SCREEN: Built-in 2.31" LCD display converts to a 7" large viewing screen by the convex lens, giving you a complete picture
DUAL MEDIA CAPTURE
Built-in Photo and Video modes feature high resolution capture (Photo – 1MP 1280×960 pixel , Video – 960p @ 30fps). Hundreds of high-quality photos and several hours of video can be captured to a Micro SD card up to 32GB (not included)
BUILT TO LAST
IP56 water resistance and battery life up to 6 hours of continuous video recording time, as well as 17 hours of constant operation without infrared lights in the daytime (using 6x AA batteries – included) allows for long-lasting use in any weather condition.
EASY TO USE
When you're ready to view your captures, you can do so right away on the built-in LCD screen using Playback Mode, or transfer your files to your computer with the included USB 2.0 cable
100% USA-NEW YORK BASED CUSTOMER-CENTRIC COMPANY & CUSTOMER CARE
Large screen, direct display, stable picture, avoid the fatigue caused by traditional mirror barrel viewing. Suitable for night hunting, reconnaissance, security and surveillance, camping, night navigation, night fishing, wildlife observation, search and rescue, bird watching, landscape photos. If you are not satisfied with our night-vision goggles, this binoculars for is backed by 18 MONTH WARRANTY or a FULL REFUND within 30 DAYS