The 6 Best Robot Toys for Kids 2020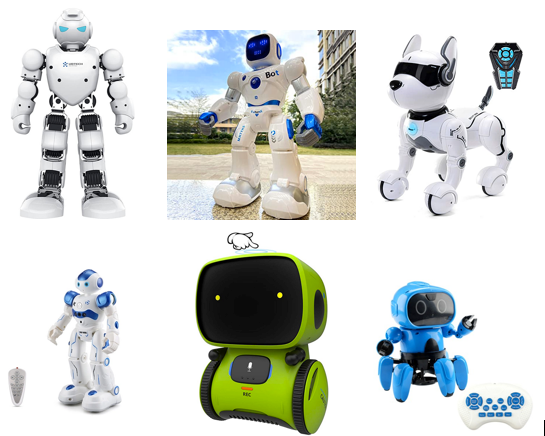 Help your children develop intelligence while bringing them unlimited fun! Check out 6 best robot gifts for your kids to develop their creativity ability. These gadgets are very responsive and bring to you their own very inquisitive personalities. Great for children of ages 3-12 and pretty much for ALL ages…
[1.] UBTECH Alpha 1 Pro Humanoid Robot – – – – $499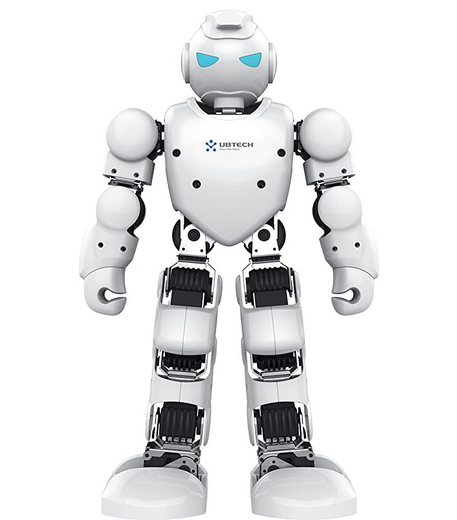 Alpha 1 Pro is an app-enabled, programmable humanoid robot that's designed to educate and entertain your entire household. Its perfectly designed, high-precision servo joints, 3D visual programming software, and other advanced features are seamlessly controlled in one app.
Alpha 1 Pro is so much more than a tech toy…his personality, life-like movements and energy make him feel like the newest member of the family. Connects easily to your smart device With the free Alpha app (for iOS and Android) through Bluetooth to access the pre-programmed movements and create movements of your own.
The included 3D desktop programming software makes the Alpha 1 Pro a powerful addition to any STEM learning Program (windows and Mac OS). Full of fun, attitude, and personality!!!
---
[2.] Ruko Smart Robots – – – – $129.99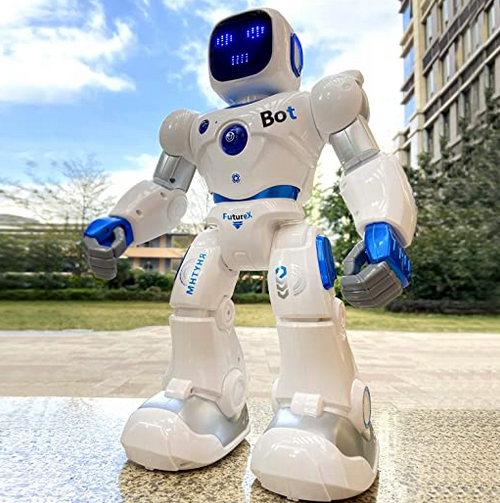 This gadget has 3 control methods. Helps your child experience more fun, including phone APP control, voice control, remote control distance over 5 feet. With the voice control "14 voice commands", you can interact with the robot by speaking to it.
It supports up to 50 action combinations, which can help children develop intelligence while bringing them unlimited fun. With the program, you can even design a space step dance.
The Robot has 9 servo joints, shoulders, elbows, waist, calf, thigh can be free to rotate, enable it to perform various complex actions, and simulate human movements.
The function "Story Telling" gives your child a fine companionship, letting the child fall asleep to a fairy tale.
This gadget is "1" of the coolest gifts for your child!
---
[3.] JJRC R2 CADY WIDA – – – – $59.99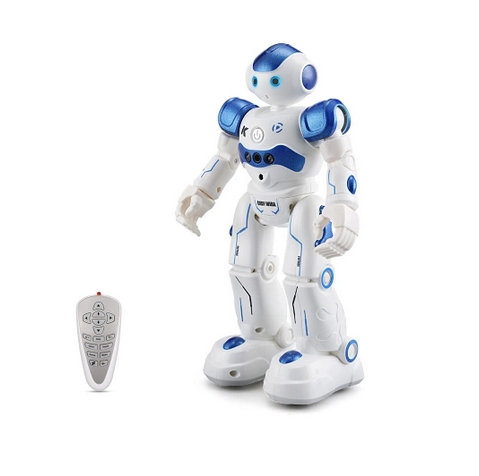 This JJR/C R2 robot with lovely LED eye lights is attractive and still playful even in the darkness. It is multi-functional, such as sliding forward/backward, walking forward/backward, turning left/right and gesture control etc.
JJRC can sing and dance to entertain you. The robot can be programmed to carry out movements as you create. It can react to your gestures with basic movements, along with sound effects. It has patrol and obstacle avoidance; once detecting obstacle in the way, it will deliver message as reminders and then move backward and turn left or right on occasions to avoid obstacles.

Best gift for you or your friend's kids. A wonderful companion for your kids.
---
[4.] Remote Control Robot Dog – – – – $49.99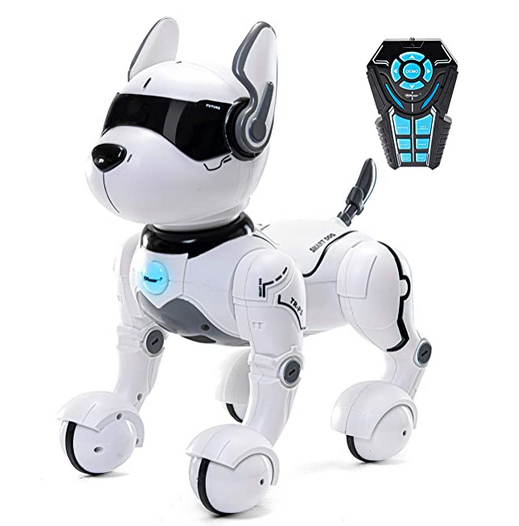 Top Race Voice Controlled and Remote Control Smart Robot Dog Personal puppy pet, robot for kids Ages 3,4,5,6,7,8,9 and UP. 12 Voice Directives, Imitates 10 Animal Forms, 7 Function Remote Control Robot toy for kids. Dances with Music and does lifelike movements, your kids will love this for a birthday gift.
Program the Robot dog to perform according to your demands. From the best robot toys on the market. This Robot Dog Gadget uses a 7.4v 600Mah Rechargeable battery that is (included) The remote uses 2xAA batteries which is obviously (not included).
This Top Race robot dog puppy would make the perfect Christmas gift or Birthday gift for boys and girls ages 3 to 10 and for the adult RC Toy lovers…
---
[5.] Mofun 991 6-Legged – – – – $39.99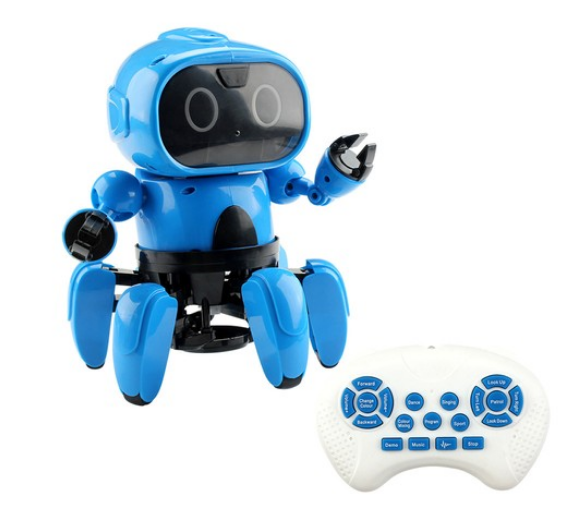 It is a 6 legged walking robot that is able to express a variety of feelings in various colors.
In partner mode "detection sensor" it will follow the action of the object ahead like a pet. When the hand is a certain distance from the robot, the robot will move forward. When the hand is close to the robot, the robot will retreat. In adventure mode "automatic obstacle avoidance" it will avoid the objects ahead and look for a path without obstacles.
This gadget will also sing and dance. Great gift for any occasion for a low budget cost.
---
[6.] Gilobaby Kids Robot – – – – $29.99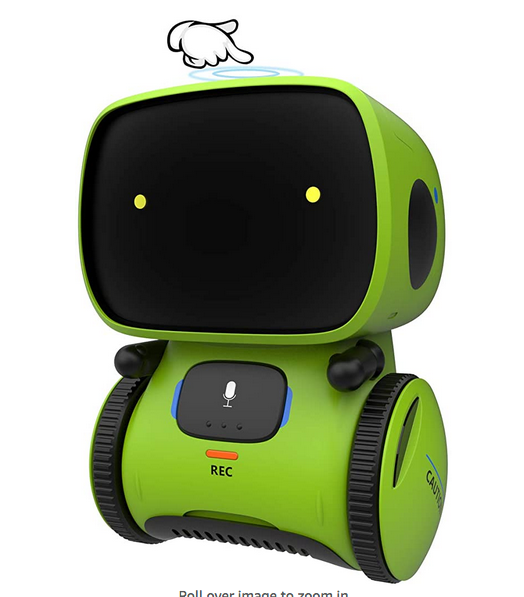 The robot will go forward, go back, turn left, turn right and 360-degree spin when you touch the sensor button (head & two ears). Super easy to operate and enjoy!
When the robot is in voice controlled mode, you can speak to the robot like "Come here, Can you dance, Are you happy", the robot will response to you according to your instruction and do actions. The robot will be power off if you say "goodbye" "sleep" to it.
Long press the touch sensor buttons, the robot will repeat as you say; Long press the voice button, you can take a 8 seconds recording. More fun to play with your partner. This little guy can become your new dance partner to brighten your day and thrill friends. Provides hours of fun and giving children experience with robotics and advanced technology.
The robot is made of high-quality plastic with smooth surface, it won't hurt your kid's when playing with it. This gadget at a very affordable price will make a great birthday gift, holiday present, or anniversary gift for boys or girls age 3 4 5 6 7 8 9 years old.