Best Portable Car Jump Starter w/ Wireless Charger AC Outlet – Halo Bolt
Bolt Wireless Portable Car Jump Starter w/ Wireless Charger AC Outlet
44400mWh Portable Car Jump Starter with Wireless Charger AC Outlet for All Cars, Trucks, Boats, Smartphones, Gaming systems.
WIRELESS CHARGER – Quickly charges your phone without the need for a lighting cable. Just place your phone on top of the HALO Bolt laptop power bank and the charge transmits automatically. With the 2 USB ports and an AC/DC outlet you can charge up to 4 devices at one time.
UNIVERSAL LAPTOP/ PHONE CHARGER – Keep your Mac, PC, phone or tablet charged when traveling or use as a backup during a storm. 120V AC wall outlet powers your laptop on the go.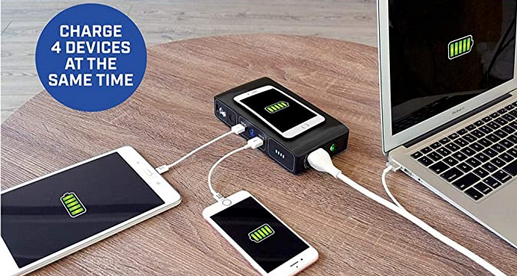 CAR JUMP STARTER – Your universal power bank includes enough power to jump start your car, boat, motorcycle or lawn mower, jumper cables included. Dead batteries can be unexpected, stay safe and be prepared with this portable jump starter.
What's In The Box: HALO Bolt, AC Wall Plug, Car Charging Adapter, Charging Cable (Micro-USB Cable), Jumper Cables, Carrying Pouch, Quick-Start Guide